The Sense 55 takes Beneteau's unusual owner-focused design into the luxury segment. Looks, price, and functionality are hitting the right notes.
By Michael Good, YACHT magazine
In the port of La Ciotat on the Cote d'Azur, a stiff breeze whistles through the rigging. Even big and heavy yachts are heeling under bare poles. When the mistral hits at full force, you'd better batten down the hatches. Hence Beneteau canceled the sail on day one of our review, but that was just as well because the forecast said it would ease some the following day.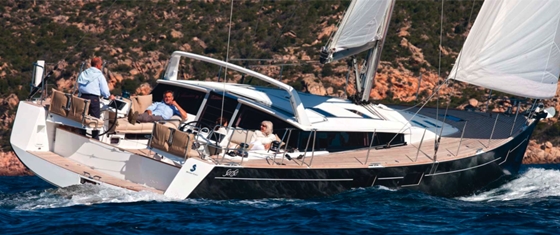 Cockpit and cabin in the Beneteau Sense 55 are on nearly the same level, making an easy flow from interior to exterior.
A spin in heavy air would have been intriguing indeed, since the Sense 55 obviously is a large, heavy yacht that inspires confidence — a real cruiser with plenty of freeboard and a deep, well-protected cockpit. In addition, the boats of market leader Beneteau's fairly new and exclusive Sense model line have a reputation for pretty good performance. After two light-air tests with the smaller models, the  Sense 50 and Sense 43, our testers were itching to confirm this in a blow.
Read more: http://features.boats.com/boat-content/2012/10/beneteau-sense-55-a-high-degree-of-transparency/#ixzz2Ayccj7Bd

__________________________________________________________________
Click the links below to learn more about the new Oceanis 55 from Beneteau
__________________________________________________________________
Click the links below to learn more about the new Oceanis 55 from Beneteau
__________________________________________________________________
Click for our Brokerage
SAIL LISTINGS   –   POWER LISTINGS
Click the logo for our New Sailboat Listings
Murray Yacht Sales is your Gulf Coast Platinum Beneteau & J/Boats Dealer and has been serving the Gulf Coast Boating Community since 1974